In recent years, the number of patients that could use Remote Patient Monitoring (RPM) was few. Since 2018, Remote Patient Monitoring has grown. More practices are now offering RPM to their patients, and there is a growing trend for RPM.
The Centers for Medicare & Medicaid Services stated, "…improve access to solutions via Remote Patient Monitoring technology, updated payments for home health care with a new case-mix system, begin the new home infusion therapy benefit, and reduce burden." With these changes, many practices were able to provide Remote Patient Monitoring.
Since the inception of RPM, Medek RPM has been at the front lines going through all the changes the service has made these last years. Medek has created this short guide to showcase the changes in Remote Patient Monitoring and the reasoning as to why many things are the way they are today.
Inception
At the beginning of 2018, Remote Patient Monitoring got its first CPT® Code 99091.
At the time, this was received with open arms from many telehealth providers, providing an alternative business model to many telehealth providers and practices. CMS unbundled this code to make way for this new service.
This code quickly differentiated RPM from TeleHealth. Interpreting healthcare information without direct interaction with the patient allows a practice to bill for an additional CPT® code. With traditional telehealth services, interactions with the patient are needed, causing longer waits for the patient and more work to achieve similar results.
At the time, Medek RPM was providing a telehealth service nationwide to individuals to corporations who needed healthcare. As this news broke out about RPM, the Medek RPM team saw an opportunity to provide one-time care to individuals and tie this in with their day-to-day to help people achieve their health goals. Quickly Medek RPM was founded, and at the time, only a handful of companies saw the future in RPM.
The only downfall was that CPT® Code 99091 alone could not define all the parameters needed to run a successful RPM program and what minimum requirements RPM providers had to meet to provide a sustainable service for both practices and their patients.
Expanding RPM
In 2019 this quickly changed with the addition of three CPT® Codes, 99453, 99454, and 99457. These different CPT® codes for RPM gave rise to what a successful RPM program would look like. They do a better job of being more accurate in what steps an RPM provider and a practice must take to maximize billable code per patient while providing world-class health services to patients.
Even though these rules outline what must be done, it does not outline the method or other technology needed to complete these codes.
At Medek RPM, this blank slate provides a world of creative content for people to become healthier. Medek RPM launched a proprietary system where providers could track, manage and observe patients. On top of that, we were one of the first RPM companies to provide cellular-connected devices compared to the industry standard of Bluetooth devices.
All these changes grew RPM, but 2020 pushed RPM to the front lines by far.
Never Feel Stuck Again Explaining RPM to a Patient!
---
Grab Our 'RPM Conversations Starter Templates'
Easy to follow scripts, answers, and rebuttals to potential objections when discussing your RPM program with patients
free download!
GET IT NOW! >>>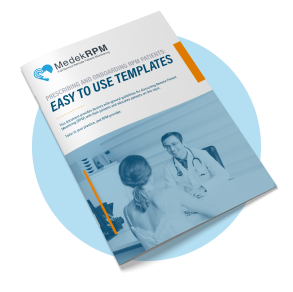 Worldwide Challenge
COVID-19 hit both the world and the healthcare industry hard. With an ever-increasing growth in medical care and some medical facilities failing to provide care for their communities due to the induction of patients suffering from covid, something had to change.
In May 2020, CMS issued some quick changes to RPM due to unforeseeable events. These changes included
Removal of the requirement that there must be an established patient-practitioner relationship to initiate the delivery of RPM services. New and established patients can receive RPM services.
For CPT® 99454, modification of the number of days that data must be collected from the required 16 days to fewer than 16 days in 30 days if the patient has or is expected to have COVID-19 and other code requirements are met.
Clarification that Practices can use RPM services for physiologic monitoring of patients with acute or chronic conditions.
Modification of the requirement that consent must be obtained before providing an initial remote physiological monitoring service. Instead, practitioners can now obtain permission when services are provided and by individuals providing RPM services under contract to the ordering physician or qualified healthcare professional.
Confirmation that RPM services can be furnished under general supervision.
With these changes, Medek RPM was able to expand RPM services to communities struggling to receive care, revitalize and help grow communities who worked in the healthcare field—helping frontline workers go above and beyond in hero status and keep patients healthier than ever before.
RPM Today
The healthcare industry's future is changing, and the care format has changed, but one thing is for sure: RPM is here to stay. And Medek RPM is one of the fastest growing RPM companies in the US.
With the possibility of new CPT® Codes being added for RPM and new technology making the services more accessible and faster to use, it is no wonder why most practices will be using this service soon. Start a conversation with a Medek Representative today.