Reason for Inquiry
Please select how we can help.
---

---
Product Question
New to Medek? Want to learn more about the product? We're here to help.
---
---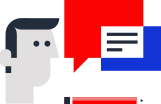 ---
Customer Support
Already a customer? Let us know how we can help you with your account.
---
---
Do you have any questions about our products?
---
Medek is here to answer any questions you may have regarding your customer experience.
---
In less than 60 minutes the prescription I needed was waiting for me at my pharmacy.

Finally someone in healthcare got it right…

One phone call saved me $900 and time.
---